Students helping students around the world…
BCMF are pleased to be working with a number of schools around the globe to promote the work of BCMF and to provide insightful information to enthusiastic students about the life of young adults from Burma and what it is like to live with a debilitating disease as a student of a migrant school or as a refugee.
2012 Partnerships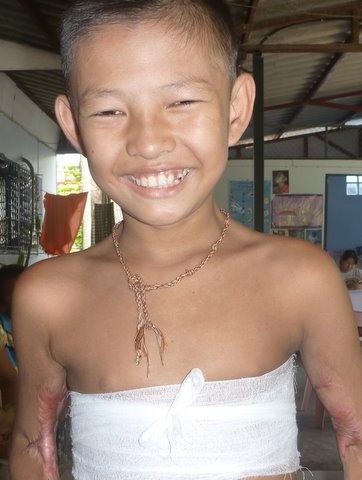 [/caption]In 2012, Alfrink College (Netherlands) will be working closely with BCMF. They have already started their support by Sponsoring a Van on 22 December 2011. Stay tuned for more information on BCMF and Alfrink College in 2012 soon…
BCMF first started working with students from Alfrink College in early 2011 when they choose BCMF as one of their charity partners for their Model United Nations Alfrink (MUNA) conference which bought together students from all over Europe to debate on global issues. MUNA sponsored the BCMF patient van that departed the Mae Tao Clinic for Chiang Mai on 3 February 2011. BCMF was happy to provide information on the patients who were traveling to Chiang Mai and also put together a slideshow for the students participants in the MUNA conference so they could engage with BCMF's work.
Past support from schools, colleges and students…
In July 2011, a student from California USA visited the BCMF patient house in Chiang Mai. At the time BCMF didn't realise that 17-year-old
Daniel Galuppo was an up-and-coming film producer. That was until he started helping BCMF by making short films about our patients and their journeys. Daniel has since won a scholarship and hopes to use it to study film production at UCLA. Here are some of the short videos he created for BCMF:
In July 2011 students from the South East Asian Frontiers program at the Australian National University visited the Mae Tao Clinic and heard about the work of BCMF. They pooled together their funds and sponsored a van. Watch the video…
In February 2011, a dedicated teacher from Chisholm Catholic College (Brisbane, Australia) gained support from her colleagues and sponsored a van of BCMF patients.
In January 2010, a student from Rosebay Secondary College (Sydney, Australia) visited BCMF and got to meet some of our patients first hand. Martha had approached her school and raised enough money to support two BCMF patient vans.
Get involved!
BCMF is always looking for opportunities to work with schools. We are happy to work with teachers and students to provide information and answer any questions they have about the work that we do. We are also happy to put together specific information and photo slideshows for fundraising events and activities organised by the school.
Please contact Kanchana for more information on [email protected]