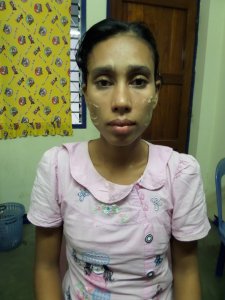 Ma San is a 47 year-old woman who was referred to BCMF after being diagnosed with a cervical polyp and a fistula. She is living in Ho Fai in the Mae Sot area of Thailand. Her family came here for work 6 months ago and they plan to stay for another three months to save a little money before returning to their home in Burma. She has three children: the oldest daughter is married and moved out last year, the younger daughter is helping the family by doing day labor in the cornfields and her 11 year-old son attends one of the migrant schools in Mae Sot. Ma San used to work as a day laborer in the cornfields as well but due to her health problems she was forced to stop working. However, she says she is still able to manage household chores and daily tasks. The family's income is about 3,000 baht ($96.63 USD) per month, and while it is enough to cover their basic expenses they are not able to save any money. Their boss provides a small tent for the family to live in.
Ma San's condition began 11 years ago when she gave birth to her son at home with the help of a TBA (traditional birth attendant). During her delivery, the TBA needed to cut an episiotomy (a cut made to the opening of the vagina to make it bigger so that it's easier for the baby's head to come out). However after giving birth the cut was never stitched closed as the TBA didn't have the skills to do so. Ma San has been living with the fistula for eleven years. She says she has many difficulties such as when she wants to pass a stool, she has to quickly get to the bathroom otherwise her stool will come out uncontrollably. Her husband sometimes complains about her problem but tries not to say too much; he knows that there is no way to get treatment in their village and they can't afford to go to a hospital in a big city. The village where they live is in an isolated area and there are no midwives or nurses that could help treat her condition. She adds that in Burma, it is difficult to get health care in rural areas as there are no health workers from the government in her village. Last year, only one midwife from the government came to her village and there are no health-related NGOs in the area.
Ma San sought treatment for her condition in May 2013 when additional symptoms appeared; she began suffering from extreme pain in her lower abdomen and back. She visited Mae Tao Clinic on May 7, at which time a medic tested her urine and found that she had a UTI (Urinary Tract Infection). She received medication for her symptoms and returned home in the evening. However in June, Ma San had her menstrual cycle and it continued for three months, sometimes with heavy bleeding that would last for a week. During this time she experienced dizziness and fatigue. She visited MTC again in September and her blood pressure was low due to the non-stop bleeding. The medic discovered that as well as her fistula she had a cervical polyp. When the medic inspected the polyp, it began bleeding heavily. She had an ultrasound test which revealed blood clots in the uterus so she was given medication and told to come back for a follow-up appointment in October. The bleeding eventually stopped and when she returned for her appointment her case was referred to BCMF.
Ma San heard about the Mae Tao Clinic from one of her neighbors she works with. She says a car from the clinic used to go to their migrant community and give free rides. This helped ease her fear of traveling as most people are afraid to take a bus to the clinic (if the Thai police catch them, they have to pay a 500 baht ($16.09 USD) fine and they might be arrested and put in jail overnight or deported back to Burma). She says that following treatment she hopes to be healthy and she would like to return to work to help support her family.
Ma San is currently undergoing treatment at Mae Sot Hospital.