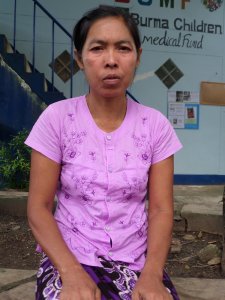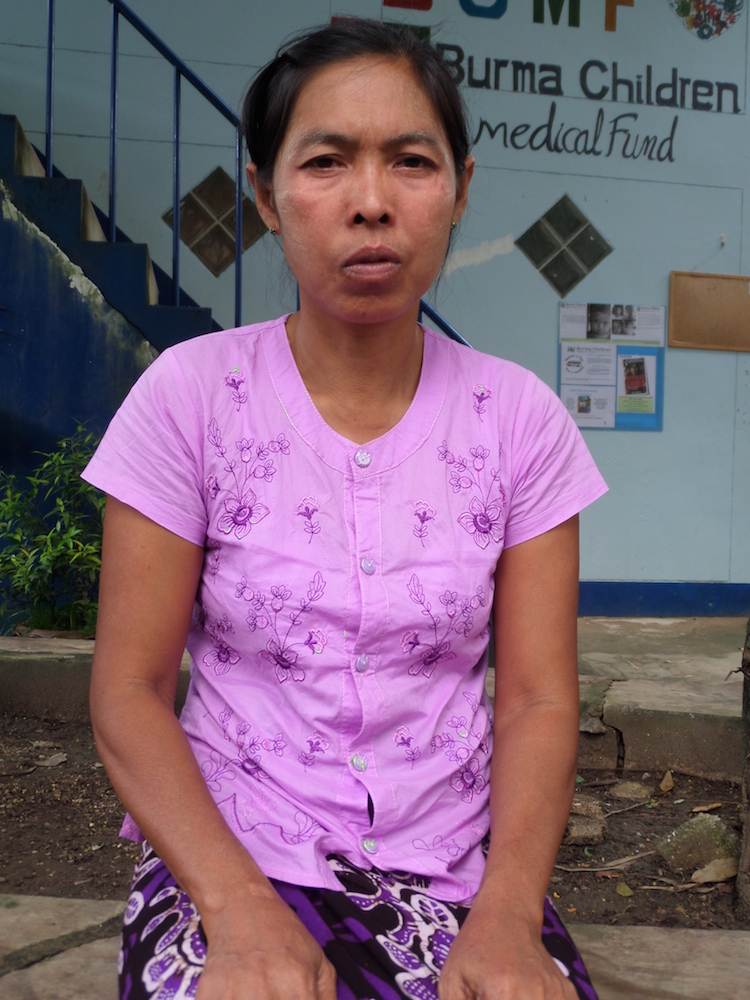 Daw Win is a 51 year-old woman from Nidon village in the Mon state in Burma who came to BCMF because of a prolapsed uterus. She divorced her husband 20 years ago and has one son who is 23 and lives in Bangkok working in a factory. She has lived in her village her entire life and went to school until grade 4. She now lives by herself and works as a phone operator, making anywhere between 20,000 kyat ($20.47 USD) and 50,000 kyat ($51.17 USD) per month. Her salary varies so much because others in her village have recently opened operator businesses as well and she has been losing customers.
Daw Win's mother lived with her until one month ago, at which time she passed away. For the last 10 years her mother suffered from gout and needed expensive medication. Three years ago her mother had a stroke, which also added to her medical expenses. Daw Win is now in debt 700,000 kyat ($716.48) at a 5% interest rate because of her mother's medical bills and funeral costs. When asked whether her son helps her with her bills and sends money, she gets very upset. Her son is married and Daw Win doesn't like his wife, so her son doesn't help her financially. Any extra income he earns is sent to his mother-in-law.
Daw Win gave birth to her son at home with the help of a traditional birth attendant. When he was 3, she noticed that her uterus was coming out of her vagina and she was very uncomfortable. A TBA massage was able to put her uterus back in, but after 15 days the problem returned. She went back to the TBA but was told that she couldn't do anything else for her. Later that year a government nurse came to her village. She showed the nurse her condition and the nurse determined that the best treatment option was to sew her vagina closed. Four months later her symptoms returned when her uterus began pushing so hard that the sewing came undone. The nurse told her that she couldn't sew it again and advised that she go see a doctor at the Zernibowa clinic in Mawlamyaing. She went to the clinic and following her examination the doctor recommended inserting a vaginal pessary to help support her uterus. He said it should help her condition and that it would need to be changed every 3 months. This visit cost her 12,000 kyat ($12.32 USD).
Daw Win returned to her village. However, when she got home she noticed that her vaginal area was extremely sensitive and she was very uncomfortable. She returned to the clinic one week later and was told by her doctor that these side effects weren't normal. He removed the ring and told her she would need a hysterectomy. This visit cost her 3,000 kyat ($3.08 USD). The doctor told her she should go to the government hospital but that she couldn't go immediately as the waiting list was about a month long. She was also told the surgery would cost 200,000 kyat ($205.34 USD). As her mother was still living with her and was often in pain and in need of care Daw Win decided against the surgery for the time being.
After her mother had a stroke 3 years ago, Daw Win would often have to lift her up as she wasn't able to move around on her own. She says that her mother was very heavy and it was during this time that her symptoms worsened and began to really bother her. She had a lot of back pain, her lower abdomen would become numb at times, and she could feel her uterus coming out and it had become swollen. She says that her symptoms have been worse the last year, and that it is uncomfortable to walk and she has difficulty passing stools. In her village she has to walk to the stream to collect water and she has a hard time doing this. It has also been difficult to work as she sometimes has to walk very far to collect people when calls are received and it is very uncomfortable. She says that she sleeps in the fetal position as it relieves pressure and helps her feel better.
After her mother died, Daw Win wanted to get treatment. She didn't want to go back to the clinic she had been to before as the doctor she had seen was no longer there. She also didn't want to go to a private clinic as a neighbor of hers with the same condition had received treatment there and it cost her 800,000 kyat ($821.35 USD). Another neighbor of hers happened to be a former BCMF patient and suggested that she contact them. She was very scared and nervous at first as she had never been to Thailand and she would be traveling alone. However, after some reassurance from the BCMF staff, she made the journey and arrived at Mae Tao Clinic. The journey took one day and cost 15,000 kyat ($15.40 USD) to get to Myawaddy and 500 baht ($16.05 USD) to get to the clinic.
Daw Win is extremely stressed about the debt that she owes and becomes very emotional when discussing it. She says that once she recovers, she wants to return to her village and raise pigs to pay back her debt, which she thinks should take about a year. After her financial debt is behind her she hopes to leave everything and become a nun.
Daw Win is currently undergoing treatment at Mae Sot Hospital.