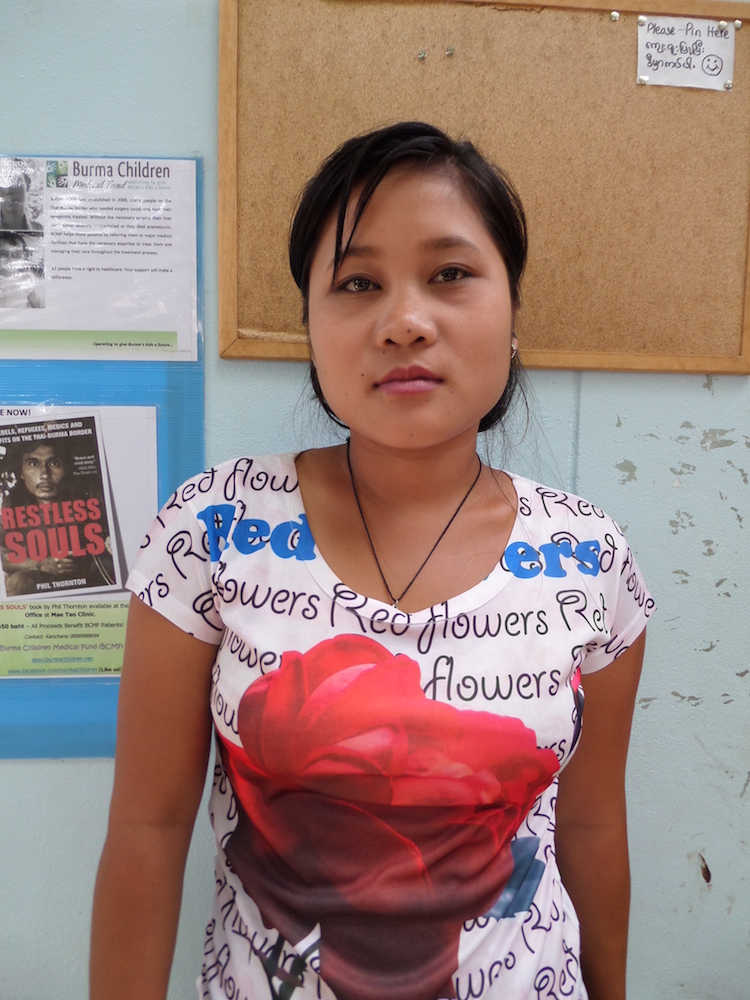 Paw is a 20 year-old single mother who came to BCMF suffering from a cardiac condition. Currently, she lives with her two year-old daughter and her parents in Noh Poe, a refugee camp on the Thai-Burma border in the Tak Province of Thailand. She is originally from the Kawkariek Township of Burma, however 12 years ago her family fled to the border due to the unstable political situation in her village. Fighting between the Karen National Liberation Army (KNLA) and Burmese soldiers occurred frequently. She attended school in the camp until she was 16, at which time she got married. Paw doesn't work and occasionally the camp's rations are not enough for her family to rely on. About 10 days a month, her parents will look for day labor outside of the camp to supplement their income, earning about $6.40 per day combined. With this added income they are able to manage, however it is difficult to save any money.
Paw first noticed her health problem when she was seven years old and still living in her village in Burma. She noticed that she wasn't able to play as much as other kids; when she did too much activity, she would get very tired and her heart would begin beating very hard. Sometimes she would wake up in the middle of the night because she would have difficulty breathing. As her family lived in a rural village, there was no clinic. Her parents did not pay too much attention to her symptoms.
Paw said that whenever she got sick, her father, who is knowledgeable in traditional medicine, would make an herbal drink to reduce her fever. However, this did not help her heart palpitations or her fatigue. When she was 12 years old, her symptoms got worse and her parents took her to the camp hospital. A doctor examined her and found that she had a heart condition so medical staff arranged for her to receive treatment in Chiang Mai. Paw traveled to Chiang Mai, however plans for surgery fell through and she did not receive treatment. When Paw was 15 years old, she fainted and was again taken to the camp hospital. But at the time, the health workers and doctors there had changed; they couldn't find or recall her health history, even when Paw reminded them that they had sent her to Chiang Mai. The camp medics did not take her seriously and made no plans to organize future treatment.
Paw lived with her heart condition for the next few years and when she was 18 years old she gave birth to her daughter. She told us that her husband was an alcoholic and wasn't nice to her and when her baby was 7 days old he left her and hasn't contacted her since. Struggling through a difficult time, she was forced to rely on her parents and move back home. When she spoke with BCMF staff she said that the last few months have been especially hard as she has felt her symptoms getting worse and has experienced fatigue, difficulty breathing, and trouble sleeping at night. She returned to the camp medics and this time met with a different doctor. This doctor gave her an exam and followed up with the previous staff. In addition, he took her case and referred her to Mae Sot Hospital for an echo test. This revealed suspected ASD with pulmonic valve disease and her case was then referred to BCMF.
Paw has been stressed about her health as she is a single mom and worries about her young daughter. Right now she is unable to work but helps out around the house with chores and stays at home with her daughter. She hopes in the future that she will be in good health as she would eventually like to be a teacher at a nursery.
Paw is currently undergoing treatment in Chiang Mai.