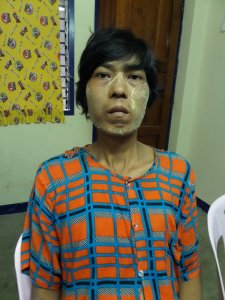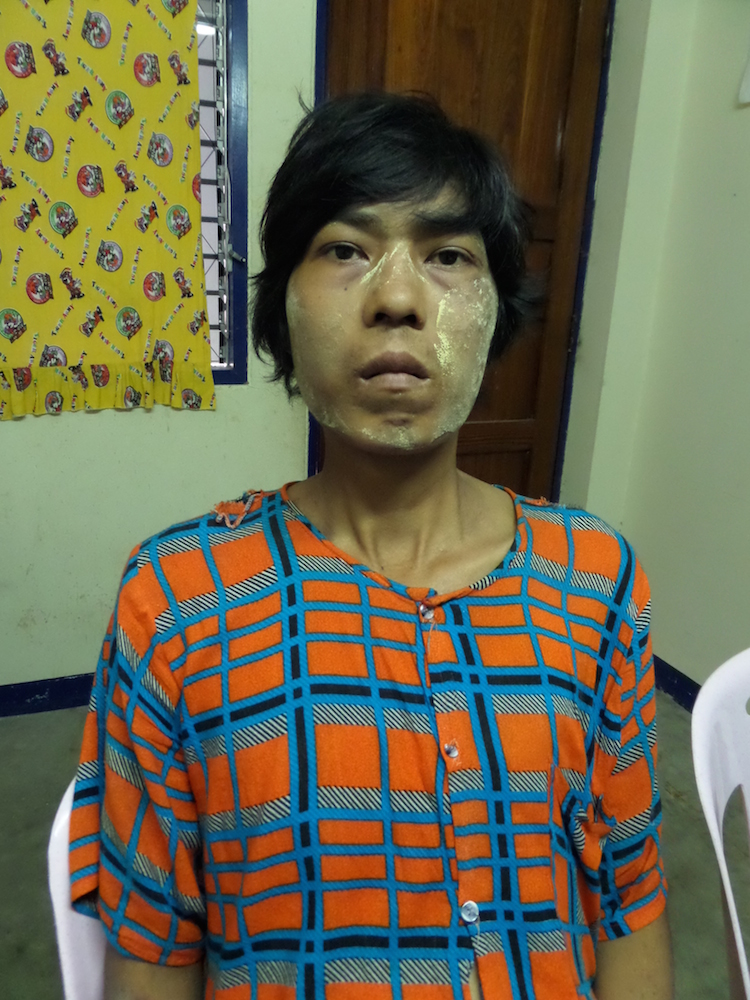 Kyaw Myo is a 27 year-old man who has been suffering from cardiac disease since he was a young boy. His biological parents died when he was few months old and he was adopted by a couple with two daughters living in Mawlamyine in Mon State, Burma. When he was 12 years old he became very sick and started experiencing severe fatigue and shortness of breath. His parents took him to Mandalay hospital where he was diagnosed with cardiac disease and told that he needed to have surgery. His parents agreed to proceed and he underwent cardiac surgery later that year. Unfortunately, Kyaw Myo was stigmatized as a result of his health condition. Teachers at his school were aware of his problems with fatigue and shortness of breath and knew he underwent cardiac surgery. They assumed he was not well enough to attend classes or participate in school activities and advised his parents to stop sending him to school.
Doctors told his parents that he would need another surgery when he was an adult. His symptoms improved for a number of years, but by the time he turned 18, the fatigue and shortness of breath returned. At this time his father retired from work and the family began having financial problems. As a result, his parents were never able to pay for him to have the second surgery that doctors recommended. By this time his two older sisters were married and had moved out of the house, leaving his older brother as the only one left who could still work and support the family. Kyaw Myo's medical condition meant that he could not do manual labor outside of the house and could not walk long distances, so instead he supported the family by staying home cooking, cleaning, and doing other housework. His brother eventually decided to move to Thailand in order to find better-paying work. He sent money home to help support Kyaw Myo and his parents, however it was barely enough for them to meet their day-to-day living expenses. He eventually stopped sending money and cut off contact with his family and Kyaw Myo felt incredibly guilty about continuing to live at home without helping to support his parents. He tried to find a job that he could manage despite his symptoms and found work in a teashop where he earned 30,000 kyat ($30 USD) per month. However, he was on his feet all day and his cardiac condition meant that he suffered severe edema (fluid buildup) in his feet. Despite his good intentions to support his family, Kyaw Myo's symptoms made it impossible for him to continue working at the teashop.
Without a source of income, his parents decided to go and live with their eldest daughter. The family faced a real struggle to make ends meet and his sister ultimately asked Kyaw Myo and his father to move out of the house. His father decided to return to Mandalay to live with a niece, but before he left, he took Kyaw Myo to a monastery in Mawlamyine since he had no other place to go. Kyaw Myo lived at the temple for a month when one of the monks decided to take him to Mawlamyine Hospital to attempt to get treatment for his cardiac symptoms. The monk gave him 6,000 kyat ($6 USD), left him at the hospital, and asked him not to return to the monastery since the monks did not have enough money to help Kyaw Myo get treatment. He was hospitalized for a total of two weeks and received medication which helped to temporarily ease his symptoms. However, none of the doctors or nurses suggested he pursue surgery; they knew that he could not afford it, so they did not recommend any additional treatment.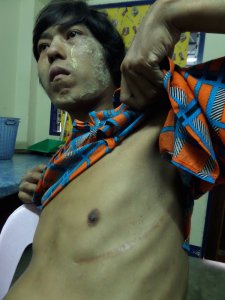 After he was discharged from the hospital, he had nowhere to go. He knew he was not welcome at the monastery nor could he return to his sister's house. Kyaw Myo was homeless, begging for food and money from people on the street. Sometimes he slept at the bus station or the taxi stand. His harsh living conditions meant that his health condition continued to deteriorate. He did not have enough food to eat or a proper place to sleep. He constantly experienced shortness of breath, fatigue, and edema. One day, he was sleeping in a small hut in a slum in Mawlamyine. When he woke up, he was so weak that he was unable to move. He asked someone to help him and one woman that was also living there gave him 1000 kyat ($1 USD) and asked the taxi driver to take him to the hospital. The driver took him to the hospital and left him in front of the hospital gate. However, he was so weak that he couldn't walk in to the hospital on his own and someone had to assist him in. The nurses there recognized him from his previous hospitalization and gave him medication for his symptoms again. Because they knew him and were aware of his situation, they did not charge him for the treatment. He was hospitalized for a total of two weeks, but when he was discharged, he once again had no place to go. He went to the train station where he stayed overnight.
At the train station, he asked someone for money to buy a train ticket to Mandalay so that he could look for his father and his other sister. When he arrived in Mandalay, he was unable to find his father, so he went to his sister's house. Like his other sister, she said she could not help Kyaw Myo and that he could not stay with her either. He stayed in Mandalay for a total of 3 months; he continued sleeping at the train station and begged for food. However, in April 2013, his condition became so severe that someone took him to Mandalay Hospital. He was again hospitalized for 2 weeks. However, he could not afford to pay the hospital bill so hospital staff waived the charges. At this point, he decided to return to Mawlamyine to his mother and sister. His mother wanted him to live with them, but his sister would not consent for him to stay there, so he had to sleep outside of the house. After 10 days, his sister asked him to leave again. His mother did not want him to go, but she was reliant on her eldest daughter and had no power to force her daughter to let Kyaw Myo stay. Once again, Kyaw Myo left his sister's house with no place to go and no relatives to care for him.
After leaving his sister's house for the second time, he once again returned to sleeping in the slum area of Mawlamyine. His cardiac symptoms returned quickly and someone took him took him to Mawlamyine Hospital in May 2013. He was hospitalized for two weeks and once again was unable to pay the hospital bill. Some of the nurses and other patients were sympathetic to his situation and gave him food and a little money during his time at the hospital. It was during this hospital stay that some of the other patients told him that he should seek treatment at Mae Tao Clinic. However, he had no idea how to get to the clinic and had no money for transportation. Someone gave him a little bit of money, so he took a boat—the cheapest mode of transportation– from Mawlamyine to Zar Tha Pyin, a small town outside of Pa'An. When he arrived at Zar Tha Pyin, he couldn't continue his journey as he didn't have money to take the bus on to Myawaddy. He stayed overnight at the taxi stand where he met a local fisherman. The man took him to his home and asked him to help him with his business selling fish. However, Kyaw Myo could only stay with that man and his family for 4 days as his health condition was getting worse and he could not help with any of the housework or the fishing. The man's wife ultimately asked Kyaw Myo to leave their house.
Kyaw Myo returned to the taxi stand where he met a woman selling tofu. As it was clear to her that Kyaw Myo was very sick, she gave him 1,000 kyat and asked the taxi driver to take him to Pa-an. The taxi driver did not charge him as he knew that Kyaw Myo did not have any money. When he arrived in Tha Ma Nya Village in Pa'An, he went to the local monastery where they gave him food and a place to stay for a few days. However, the monastery did not allow long-term guests, so the monks asked him to leave. He asked local villagers about Mae Tao Clinic and they gave him directions. He was fortunate enough to find a bus driver who agreed to take him to Myawaddy for free. He arrived in Myawaddy on July 3rd, 2013 and crossed the river from Myawaddy into Mae Sot. Like the bus driver, the boat captain did not charge him as he could see how sick Kyaw Myo was and understood he needed to get to Mae Tao Clinic quickly. When he arrived in Thailand, a lady gave him 40 baht for the line truck to come to Mae Tao Clinic. After arriving at the clinic, he was admitted to the inpatient department (IPD), given medication, and referred to Mae Sot Hospital for a chest x-ray. His x-ray showed that he had severe cardiomegaly (enlarged heart) and was told he should attend the free echocardiogram screening being offered by Lampang Hospital. Following the echocardiogram screening, doctors determined that his condition was so severe that he needed surgical treatment as soon as possible and MTC referred him to BCMF.
In July 2013 BCMF sent Kyaw Myo to Lampang for surgery. At the hospital, doctors conducted several tests – blood, x-ray, urine and another echocardiogram. In the first week of August 2013, doctors operated on him and replaced his mitral valve and repaired his tricuspid valve.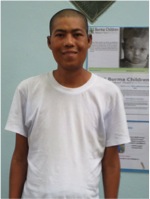 He says that while initially he was very scared and sad to undergo surgery alone and without any family support, once he was at the hospital the doctors and nurses were very nice to him and a BCMF staff member helped translate the treatment he was going to receive. Although he sometimes had a hard time communicating with the staff, they would come and check up on him every hour and give him medicine and food. Compared to his experience in the hospital in Burma, he says the staff at the Thai hospital was so much nicer and everyone was very kind. He added that at the Burmese hospital, the nurses were very rude and wouldn't explain anything to the patients.
During his pre-operative interview with BCMF, Kyaw Myo reflected on his situation and expressed regret that he could not work due to his health problems. He said that most days, he could not even manage his day-to-day tasks without experiencing severe fatigue and shortness of breath. His sister was unsympathetic to his situation and reluctant to take care of him because he is adopted and is not her real brother. Kyaw Myo said he knew she saw him as nothing but a burden. He expressed how stressed and saddened he was about his life and said that he frequently thought about suicide, but never attempted it. He says that when he thinks about the future, he wants nothing more than to be healthy and to work to support himself and his mother who is now getting old.
Following the surgery, Kyaw Myo now says he has lot more energy and a good appetite. He can breathe normally and is able to walk around without having to frequently sit down as he doesn't feel as tired. He no longer suffers from the symptoms he experienced prior to surgery, such as chest pains and heart palpitations. Although his future is uncertain given his background, he hopes to start his own business making purses and bags with his own hands. He wishes to support himself and lead a healthy life.