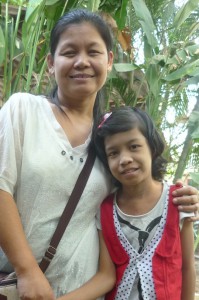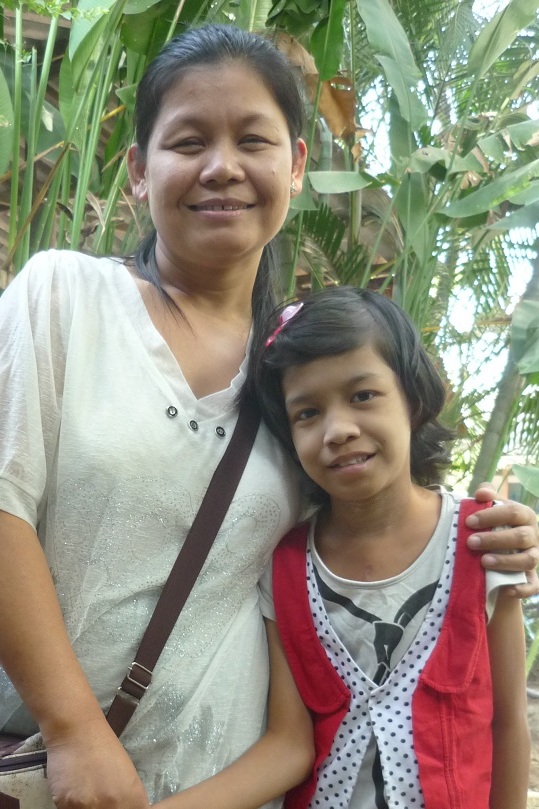 Nan Yu is a twelve-year-old girl with cardiac disease who first came to BCMF in May 2012. When she was nine years old, she contracted Dengue Fever and went to Yangon Hospital for treatment.  While there, doctors also diagnosed Nan Yu with cardiac disease.  She continued to go to Yangon Hospital for follow-up appointments and was given medication to help manage her symptoms, but doctors said that without surgery her health would continue to deteriorate. When her family could no longer afford the cost of follow-up appointments in Yangon, they brought her to Mae Tao Clinic where she was referred to BCMF.
Nan Yu's Treatment
Nan Yu has traveled to Chiang Mai twice for treatment since she was enrolled in the program.  The first time was for an initial consultation including an echocardiogram and other diagnostic tests.  Doctors at Chiang Mai confirmed her diagnosis of Ventricular Septal Defect.  Ventricular Septal Defect is a condition in which there are one or more holes in the wall that separates the right and left ventricles of the heart. Ventricular Septal Defect is one of the most common congenital heart defects.  During her second visit to Chiang Mai in October 2012, Nan Yu underwent heart surgery to correct the defect.  According to her mother, she was admitted for a total of 8 days to the hospital and they stayed at the patient house in Chiang Mai for over one month.
Nan Yu's mother says that before the surgery the doctor explained that her daughter had been sick with cardiac disease for many years and therefore the surgery might be risky. However, the doctor also explained that without the surgery, Nan Yu's health would continue to deteriorate and she would not be likely to live past the age of 20. Because of the risk involved, doctors asked her mother to sign a release form acknowledging that she understood the risk and giving her permission for the surgery. Nan Yu's mother said she was very worried about her daughter having the surgery both because of the doctor's caution about the potential risk and because she had heard of other patients who had undergone similar surgeries that were not successful. However, she knew that despite her fears, surgery was the only option for her daughter.
The Road to Recovery
Nan Yu's surgery was successful and she is now on the road to recovery. When asked about what has changed for her daughter since the surgery, her mother talked about the fact that there has been an overall improvement in her symptoms.  For example, before the surgery, Nan Yu got tired very easily and could not walk very far. Now she can walk long distances and has more energy than before.  Similarly, before the surgery, her appetite was poor and she had trouble maintaining her weight.  Now, even though it has been less than three weeks since the surgery, she has already gained 1 kilogram and her appetite has improved. Her mother says that Nan Yu continues to have some trouble with heart palpitations and difficulty breathing, but the doctors told her that is still early and most, if not all, of her daughter's symptoms should resolve within three months.
Overall, her mother says that Nan Yu looks and feels a lot better than she did before the surgery, but she understands that it is still too early for her to see a dramatic improvement and that it will take more time for her daughter to fully recover. Nan Yu is currently in the 5th grade and will continue going to school when classes resume. Her mother says that before the surgery, she frequently missed classes due to her health problems and during their stay in Chiang Mai for the surgery, she missed another month of school. Nan Yu says she is very eager to resume classes.  She loves going to school; it is her favorite thing to do. Her mother says that even when she was sick, she still insisted on trying to attend all of her classes. At one point last year, she was very ill and was running a fever, but Nan Yu insisted on going to school because she did not want to miss her exams.
 Thank You for Saving My Daughter's Life
Nan Yu's mother says she is very happy that her daughter was able to have the treatment and wants to thank BCMF staff, the donors, Mae Tao Clinic, and the staff at the hospital for their help. She said she was very stressed about the potential cost of her daughter's treatment and the implications for her future if her family could not afford the surgery.  She says the assistance BCMF provided was a great relief and she wants to thank everyone for their help in getting her daughter treatment.   Nan Yu's mother said that before the operation,  the entire family was very tense and worried about the potential outcome of the surgery. However, when they heard the surgery was successful, everyone was very happy and relieved.  She wants to say thank you very much to the BCMF donors and to express her gratitude for saving her daughter's life. She says "It is like you have given my daughter a new life. As you have given back my family's happiness, may you also have a successful and peaceful life. You have given me back my daughter's life and I will value that gift forever."
Nan Yu says she wants to be a doctor when she grows up because she wants to help those who are suffering from the same disease as her.