La is an 8-year-old boy suffering from a blood condition. Specifically his blood has a low platelet count (he could be suffering from a condition known as thalassaemia). He is currently in Chiang Mai undergoing treatment. He and his father were transferred directly from a small district hospital on the Thai-Burma border to Chiang Mai. The hospital contacted BCMF to refer La onto our program to ensure his medical costs were covered.

FAMILY BACKGROUND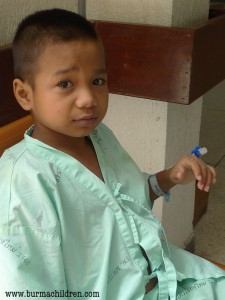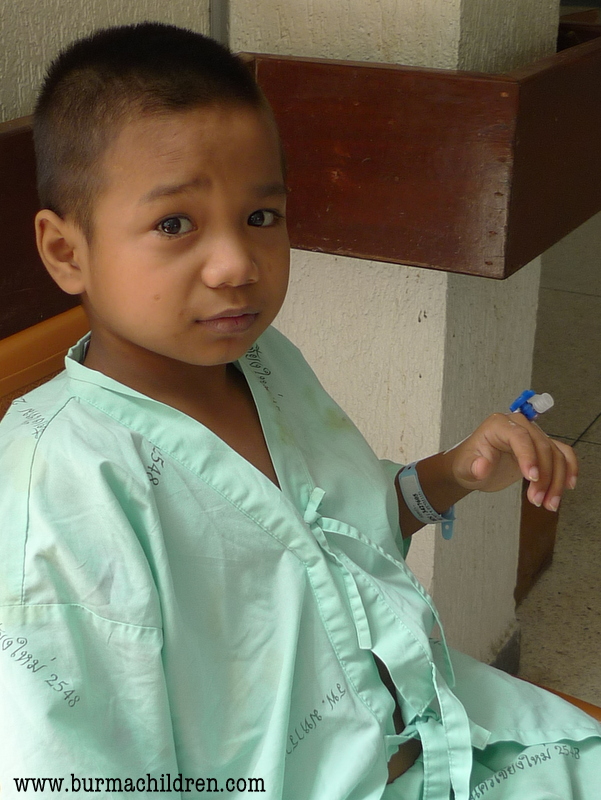 La and his family are from a small village in Karen state, not far from Thailand. The village has around 40 households and La's family make a living by farming growing rice and betel nut. They grow the rice for their own food as well as keep chickens and raise pigs. They don't earn a lot of money and must borrow whenever they need cash. Typically, they are able to live on around AU$12-$15 per month if they can sell some pigs.
La's family has been directly affected by conflict in Karen State – every household in the village must pay money to competing armies. Men in their village are also forcibly recruited to act as porters for the armies frequently. La's father has gone so often that he cannot even count how many times he has had to do this. He has portered since he was a child and is sometimes gone for a few days or up to a few weeks.
La and his older brother attend school but the family does not have enough money to send the other children. His mother and the younger school-age children stay home to care for the youngest.
MEDICAL BACKGROUND
La's family noticed that La had a medical problem earlier this year. He suffered from recurrent fevers and tiredness. They tried to care for him at home, giving him hot water to drink as well as herbal remedies and turmeric mixed with water. They say it helped a little, but after 4-5 days with no real change they took him to a small clinic in rural Thailand. La underwent a blood test with no definitive results. Friends and neighbors told them to go to a bigger hospital so they took La to a district hospital on the Thai side of the border. They made the trip by motorbike and it cost them half of what they live on in a month (around AU$6). The family had not heard about the Mae Tao Clinic so this is why they went straight to a Thai hospital. The doctors drew more blood and gave La a drip. He was admitted for 10 days and the doctors informed his parents that his blood was not good and that he needed to go to an even bigger hospital in Chiang Mai. It was at this time that the district hospital contacted Kanchana from Burma Children Medical Fund (BCMF) and requested that his case be taken on. The chain of collaboration between the district hospital and BCMF was not clear to La's family and La's father was afraid and worried about going to Chiang Mai (around 6 hours away). He even thought about turning around and going home, but because the doctor told him that La needed to go, he agreed. The district hospital arranged transport for La and his father directly to Chiang Mai rather than send them to Mae Sot (to BCMF) first. La's father had to pay for medicine at district hospital and sadly was charged (by the driver, not the hospital) for transportation.
La and his father have been in Chiang Mai since May 2012. La has been admitted the entire time and is currently receiving steroid treatment. His father says that La feels better and no longer suffers from fevers. He also notes that La has more energy than before where he was too tired and could not walk.
The biggest difficulty facing La and his family is uncertainty about the future. La's father says that he is worried about his farm back home as there is no one to look after it while he is in Chiang Mai with his son. He has had no contact with his wife or other children since taking La to the district hospital in Thailand. Trying to contact anyone in his village or in neighboring ones is very difficult as few people have phones. The reality of his son's condition means that they may be admitted for another month or more. BCMF will attempt to contact someone near their village and get in touch with La's family on their behalf.
THE FUTURE
When asked about the future, La's father says he just wants his son to get better and be able to go back to school. He is keen to return to the farmto be able to continue farming and supporting his family.