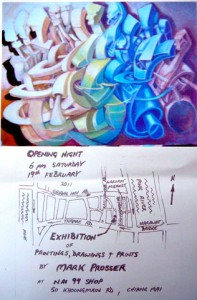 In February 2011, Australian artist Mark Prosser opened his art exhibition at Nai 99 Shop in Chiang Mai.
The exhibit featured a number of vibrant paintings, drawings and prints by Mark.
In May 2011 Mark presented Burma Children Medical Fund (BCMF) with proceeds from the sale of his paintings.
BCMF would like to thank Mark for using his creative talent to help seriously ill children from Burma get the treatment they need.
You can read about other ways people have fundraised for BCMF here…